Nina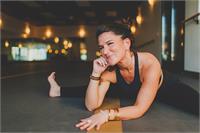 Studio Director:
Nina is impassioned by yoga and the ways it connects to life off of the mat. She began practicing in 1993. She was immediately in love with the practice of yoga as it began to transform life on physical and emotional levels. She has studied many styles over the years, learning from various traditions such as Anusara, Bikram/Ghosh/Sanchez lineage, Yin, and Vinyasa/Baptiste Method. She completed her teacher training with Bikram Yoga Head Quarters in 2005, in 2013 with Tony Sanchez, with Baptise Institute in 2015, and most recently with Hot Body Barre.
After managing yoga studios in the Seattle/Bellevue region, as well as in Northern California, Nina knew she was ready to open up her own studio. In 2011 Be Yoga Burien was born! Nina says, "Teaching yoga is the true gift of my life; it gives me the continuous opportunity to be a student."
Nina instructs the following:
1 Hour Beginners Series, 26 postures with 2 breathing exercises designed for all levels, from beginner to advanced, to work the entire body from bones to skin.
The room is heated to 105 with 40% humidity allowing the body to stretch safely and detoxify fully. Students are encouraged to rest when needed, listen to the body, never force. You will be amazed at what is possible!




Yin is a slow and passive practice, working into the connective tissues, joints, and fascia of the body. Excellent to reduce risk of injury and recover from physical activities, sports, and hot yoga, more quickly. Postures are held for several mins at a time and the class is relaxing in nature. The room not heated.




This is a fun class that combines yoga, and weights, in addition to planking, squats, and other exercises to build strength in the core, legs, arms, and back muscles of the body. We work the entire body from head to toe.

Each class will follow the same basic format of using Vinyasa flow (yoga) to warm up, introducing weights throughout our flow. This class is designed to create long, lean muscle mass, burn fat and increase fitness levels. Get ready to build strength and have fun doing it.

*Though beginners are always welcome, having taken a few vinyasa classes prior is recommended. Students are always encouraged to rest when needed and move at their own pace.