Nina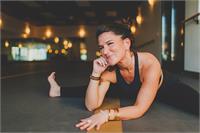 Studio Director:
Calling: All beings are free.
Nina is impassioned by yoga and the ways it connects to life off of the mat. She began practicing in 1993. She was immediately in love with the practice of yoga as it began to transform life on physical and emotional levels. She has studied many styles over the years, learning from various traditions such as Anusara, Bikram/Ghosh/Sanchez lineage, Yin, and Vinyasa/Baptiste Method. She completed her teacher training with Bikram Yoga Head Quarters in 2005, in 2013 with Tony Sanchez, with Baptise Institute in 2015, and in 2016 with Hot Body Barre.
After managing yoga studios in the Seattle/Bellevue region, as well as in Northern California, Nina knew she was ready to open up her own studio. In 2011 Be Yoga Burien was born! Nina says, "Teaching yoga is the true gift of my life; it gives me the continuous opportunity to be a student."
Nina is currently not instructing any classes.