Linda B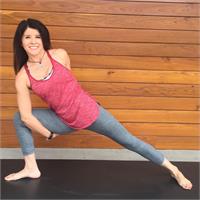 Linda, Teacher,
Linda took into her first Bikram class in 2004 after 6months of practicing yoga she was feeling the benefits of her practice. Physically she was strong had more energy but the best surprise was she no longer needed medication for anxiety and depression. She became a certified Bikram teacher Fall 2008, Hatha teacher training with Yoga to the people 2013 she continued her journey taking her 200hr RYT Vinyasa/Yin/Sculpt teacher training in June 2015. The learning never stops as a teacher and a student. "My students are my teachers, they inspire me everyday" I am honored that I get to teach what I love to do and be part of witnessing transformations and healing.
Linda B instructs the following:
What is Vinyasa Yoga?

Invigorate your body with these amazing sequences designed specifically to allow breath and movement to come together as one, while aligning, detoxifying and strengthening your body. These intentional flows, combined with the heat, constitute one of the most powerful forms of physical and mental fitness.

Vinyasa yoga is designed to promote lower and upper body strength, balance and flexibility all while coordinating the body, breath, movement, and spirit. It will strengthen your cardiovascular system, sculpt and tone every muscle in your body, and build your endurance Come prepared to work at your level that day, but know you will get a strong practice. Room Heated 95-100 degrees.




1 Hour Beginners Series, 26 postures with 2 breathing exercises designed for all levels, from beginner to advanced, to work the entire body from bones to skin.Formally known as Bikram Yoga.

The room is heated to 105 with 40% humidity allowing the body to stretch safely and detoxify fully. Students are encouraged to rest when needed, listen to the body, never force. You will be amazed at what is possible!