Linda B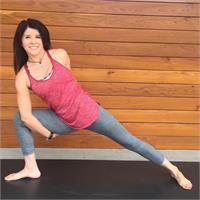 Linda, Teacher,
Linda took into her first Bikram class in 2004 after 6months of practicing yoga she was feeling the benefits of her practice. Physically she was strong had more energy but the best surprise was she no longer needed medication for anxiety and depression. She became a certified Bikram teacher Fall 2008, Hatha teacher training with Yoga to the people 2013 she continued her journey taking her 200hr RYT Vinyasa/Yin/Sculpt teacher training in June 2015. The learning never stops as a teacher and a student. "My students are my teachers, they inspire me everyday" I am honored that I get to teach what I love to do and be part of witnessing transformations and healing.
Linda B instructs the following:
Yin is a slow and passive practice, working into the connective tissues, joints, and fascia of the body. Excellent to reduce risk of injury and recover from physical activities, sports, and hot yoga, more quickly. Postures are held for several mins at a time and the class is relaxing in nature. The room not heated.