Debbie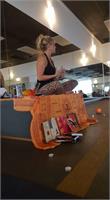 Debbie, Teacher:
Debbie stumbled into her first yoga class in 1997 and the spark was almost instantaneous--love at first sight. Having studied yogic philosophy for many years before being formally introduced to the asana, she needed to experience with her own body, mind and spirit, the miracles this practice is capable of creating in ones life. And from the moment she stepped onto a yoga mat she hasnt turned back.
Shortly after finding yoga, over twenty years ago many of her health struggles healed, pains went away, she started to eat healthier and was able to quit smoking after fourteen years as well as letting go of other unhealthy habits. Yoga has truly changed her life for the better in every way. Her yogic studies began with Ashtanga Yoga (raja, power or vinyasa are other names for this practice) and eventually she expanded into Hatha, Kundalini and Yin yoga. She began teaching ten years ago and began her own community (Seven Hot Yoga) a studio she owned and ran for close to four years. Now, she enjoys teaching all that she has learned along her journey in hopes of igniting the same spiritual health in others that she has come to know.
Debbie is currently not instructing any classes.