Audrey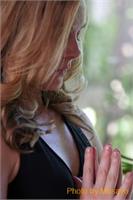 Audrey, Co-Director of Teacher Trainings:
Calling: All beings are connected and liberated
Audrey has been practicing yoga since the 1990's, first with Erich Schiffman and Bryan Kest videos and later taking Bikram Method Hatha Yoga from local teacher Marta McDermott in a gym. Later, she walked into Belltown Bikram Yoga (now closed). It took the hot room to show her that yoga was what she wanted to do for the rest of her life. Audrey considers teaching yoga to be a calling. Audrey's first yoga teacher certification was with Bikram Choudhury in 2002. She remains passionate about this style of yoga. In 2004 and 2005 she completed Power Vinyasa teacher trainings with Baron Baptiste (Level 1 & 2). From 2004-2005, she also completed 3 teacher trainings with local teacher Lisa Black (again in the style of Baptiste), including the TAP program, which is dedicated to hands on adjustments. Thinking of her beloved niece and nephews, Audrey completed the Rainbow Kids Yoga teacher training in 2009 and a Next Generation Yoga training in 2015. Though teaching in very physical styles, she is also drawn to more passive practices such as Yoga Nidra and Yin Yoga. One consistent piece of feedback Audrey has always received is about the quality of her voice. Yoga Nidra puts her voice to use in a new way. In 2009, she completed a local training with Laura DeFreitas in Richard Miller's iRest method followed immediately by a teacher training with Richard Miller himself. Regarding Yin Yoga, Audrey is self-taught in the style of Paul Grilley having studied everything that he and his senior teachers have ever published. She's been teaching Yin since 2009. In 2011, she was asked to train her peers at Fusion Hot Yoga in the style of Yin Yoga. She strives to make all of her classes as rich as possible. She's passionate about teaching yoga in a way that is equally accessible and yet challenging to all levels from beginning through advanced simultaneously.
--
"Life is movement. The more life there is, the more flexibility there is. The more fluid you are, the more you are alive." -- Arnaud Desjardins
Audrey instructs the following:
1 Hour Beginners Series, 26 postures with 2 breathing exercises designed for all levels, from beginner to advanced, to work the entire body from bones to skin.Formally known as Bikram Yoga.

The room is heated to 105 with 40% humidity allowing the body to stretch safely and detoxify fully. Students are encouraged to rest when needed, listen to the body, never force. You will be amazed at what is possible!




Yin is a slow and passive practice, working into the connective tissues, joints, and fascia of the body. Excellent to reduce risk of injury and recover from physical activities, sports, and hot yoga, more quickly. Postures are held for several mins at a time and the class is relaxing in nature. The room not heated.




Yoga Nidra following Yin

The class is donation based, and no one gets turned away! suggested $10, benefiting out Yoga Teacher Training Scholarship Program.

YOGA NIDRA is often referred to as "the sleep of the yogis." It's an extremely accessible form of meditation usually done from Savasana. Audrey will talk you through your body before bringing your attention to your mind. It can't be adequately described, but must be experienced! Yoga Nidra has been proven to reduce pain and stress. It's been used by the military to help heal PTSD.




This class is a fun "Classic 26 meets Vinyasa" class.

You will recognize postures and try new ones. It is a challenging, yet meditative posture flow designed to work the entire body and bring the mind to a state of stillness.

Class is 1 hour and great for beginning and advanced yoga students alike!




What is Vinyasa Yoga?

Invigorate your body with these amazing sequences designed specifically to allow breath and movement to come together as one, while aligning, detoxifying and strengthening your body. These intentional flows, combined with the heat, constitute one of the most powerful forms of physical and mental fitness.

Vinyasa yoga is designed to promote lower and upper body strength, balance and flexibility all while coordinating the body, breath, movement, and spirit. It will strengthen your cardiovascular system, sculpt and tone every muscle in your body, and build your endurance Come prepared to work at your level that day, but know you will get a strong practice. Room Heated 95-100 degrees.