Felicia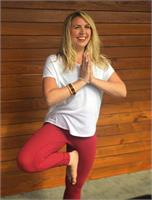 Felicia, Teacher
Calling: All beings are living in self transcendence.
Felicia took her first yoga class at the local YMCA in her small hometown; her mom had to drop her off because she wasn't old enough to drive yet. Over the years she has been a student many different types of yoga including Bikram, Viniyoga, Vinyasa, Yin, Restorative and Ashtanga. Felicia was drawn to yoga for the quiet, for that small period of time where you focus just on your breath and movement allowing everything else to fall away. Yoga has brought balance to her life and she is passionate about helping brings that balance to the lives of others and sharing her love of yoga. After much deliberation Felicia finally made the leap and completed her 200 hour teacher training at Spira Power Yoga in 2016. In her classes she strives to give her students space to enjoy a moment of quiet and connect with their breath while simultaneously increasing mobility and building strength both physically and mentally.
Felicia is currently not instructing any classes.