Seth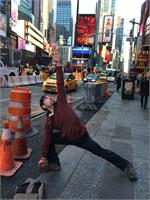 Seth, teacher, mentor for trainings
Calling: All beings are at peace
Hi my name is Seth! My yoga journey began in 2007 at the suggestion of a friend and teacher, who later on became a mentor of mine. At the time I was working in the trades as a welder and metal fabricator, and having always had a disposition towards rigorous exercise routines I had heard about the Bikram experience and was eager to give it a try. I finally made it to my first class on my own, however I don't recall much of it, all that I know is that I was smiling the whole time, simultaneously feeling a sense of shame at how uncoordinated I was. After a few weeks of regular practice I noticed the difference the Bikram practice made in not only my balance and coordination, but also in my focus and discipline which carried into other areas of my life. For years my practice ebbed and flowed, although it was always apparent whenever I felt out of sorts, it was usually because I hadn't practiced for a long time. In September 2013 I underwent a 3rd brain surgery to remove a cyst near the base of my spinal cord; the cyst a result of a tumor fused with the brain stem. The first thought that came into my mind after waking up from that operation was of course "yoga"! But more than as a student, I wanted to become a teacher, and almost a year to the date I began my Bikram training in the fall of 2014. Since then I've been able to travel the world teaching in several other countries and major cities in the United States. I am very grateful to have the opportunity and experience of teaching yoga, as it has sustained my own life. It is my objective as a teacher to give this experience of self-realization to all my students.
See you in the hot room!
Seth instructs the following:
1 Hour Beginners Series, 26 postures with 2 breathing exercises designed for all levels, from beginner to advanced, to work the entire body from bones to skin.Formally known as Bikram Yoga.

The room is heated to 105 with 40% humidity allowing the body to stretch safely and detoxify fully. Students are encouraged to rest when needed, listen to the body, never force. You will be amazed at what is possible!




Yin is a slow and passive practice, working into the connective tissues, joints, and fascia of the body. Excellent to reduce risk of injury and recover from physical activities, sports, and hot yoga, more quickly. Postures are held for several mins at a time and the class is relaxing in nature. The room not heated.