Jamie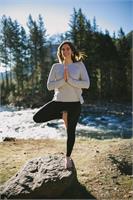 Chief Operations Operator:
Calling: All people experience tail wagging joy.
After seven years teaching elementary school, and completing my life coaching certification, it was time for a change of pace, and time to pursue other passions. I was more interested in true health, learning about essential oils and to live a healthier, more conscious life- Enter Be Yoga Burien. Serendipity is one of my favorite words, I think it's rather fun to say and it reminds me of how things can really fall into place. Much like my experience here at BYB... If you remember I started out doing 2 days a week at the front desk, which grew to 3 which grew to filling in for Lyndsie while on maternity leave, and then grew to 4 days a week at the front desk and now I've been graced with the privilege of managing the studio. What I love most about my experience here at BYB is our inclusive yogi community, sweating and shaking with you all and the opportunity to continue to grow both personally, and professionally.
Inside all of us are seeds of greatness, you just need the right environment to flourish.
Jamie teaches Bikram, Vinyasa, Barre and Yoga Plus.
Jamie instructs the following:
Our Barre class is a 60 minute full body workout that combines pilates, yoga, strength conditioning and ballet-inspired moves to give you beautiful, sculpted, lean muscles. A truly unique yet challenging workout, Barre utilizes the ballet barre to perform low impact isometric movements that lifts your glutes, tones your thighs, abs, and arms, and burns fat in a short amount of time. This regimented routine will evenly sculpt and quickly transform the entire body, resulting in a long and lean muscle physique. Room is heated to about 90 degrees. This one-hour class is designed to strengthen your core, lengthen your muscles, center your mind and produce visible results. Each class is designed to build impressive total-body toning and flexibility while maintaining the utmost safety and accessibility for all students.

The room is slightly heated (around 90 degrees) and beginner friendly. No dance background required. Bring what you would for a yoga class, your mat/towel, water, and your light heart :)

*Please note space is limited for this class and you must reserve your spot. No shows will be charged $18 or the equivalent of a class for class card holders.




What is Vinyasa Yoga?

Invigorate your body with these amazing sequences designed specifically to allow breath and movement to come together as one, while aligning, detoxifying and strengthening your body. These intentional flows, combined with the heat, constitute one of the most powerful forms of physical and mental fitness.

Vinyasa yoga is designed to promote lower and upper body strength, balance and flexibility all while coordinating the body, breath, movement, and spirit. It will strengthen your cardiovascular system, sculpt and tone every muscle in your body, and build your endurance Come prepared to work at your level that day, but know you will get a strong practice. Room Heated 95-100 degrees.