Jamie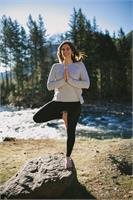 Calling:
All people experience tail wagging joy.
After seven years teaching elementary school, and completing my life coaching certification, it was time for a change of pace, and time to pursue other passions. I was more interested in true health, learning about essential oils and to live a healthier, more conscious life- Enter Be Yoga Burien. Serendipity is one of my favorite words, I think it's rather fun to say and it reminds me of how things can really fall into place. Much like my experience here at BYB. What I love most about my experience here at BYB is our inclusive yogi community, sweating and shaking with you all and the opportunity to continue to grow both personally, and professionally.Inside all of us are seeds of greatness, you just need the right environment to flourish.
Jamie teaches The 26, Vinyasa, Barre and Yoga Plus.
Jamie is currently not instructing any classes.