Meghan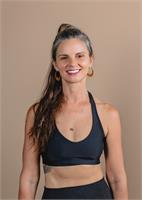 Meghan, Teacher, The Classic 26
Calling: All beings are living in grace
Meghan has been practicing yoga since she happened upon a kundalini class in college. After dabbling in various styles for a few years she took her first Bikram class in 1996. Immediately hooked, and relieved to have found her refuge, she has practiced in the hot room for 20 years. In 2002 she attended Bikram's teacher training in Los Angeles, and taught for many years in quite a few Seattle area studios. In recent years she has stepped away from the teaching podium as she cared for her husband through his cancer journey and subsequent passing. Yoga practice has proven year after year to be a source of deep healing and abiding peace for Meghan, and she sincerely hopes that through her conveying of the essence of the practice that her students can also abide in that healing space of peace and tranquility. Meghan recently moved to Normandy Park, and is thrilled to be joining the Be Yoga Burien squad of high caliber instructors!
Meghan instructs the following:
1 Hour Beginners Series, 26 postures with 2 breathing exercises designed for all levels, from beginner to advanced, to work the entire body from bones to skin.Formally known as Bikram Yoga.

The room is heated to 105 with 40% humidity allowing the body to stretch safely and detoxify fully. Students are encouraged to rest when needed, listen to the body, never force. You will be amazed at what is possible!