Beth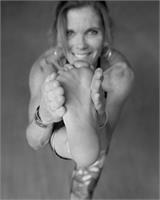 Beth, teacher
Calling: All beings are unconditionally loved, belong, and are fully accepted.
Beth began her personal practice in the hot room 9 years ago. Invited by a close friend to try a local studio, she went along for the ride. The first class was grueling, challenging, and the teacher "tough". One thing was certain, a feeling deep inside Beth knew that she had found her home and refuge. Though it was difficult, her body began to heal from the years of marathon running, soccer playing, cycling, hiking, and pack backing. Overtime the hot room was her 90-minute vacation from life, career, and being a human on the planet. It was the one space that the mindfulness of being still, and accepting was experienced mentally, physically, and emotionally. Fast forward a few years. Due to a career change, Beth was able to allocate time to attend teacher training for 9 weeks. The training was local, so it was ideal. Since that initial training Beth has committed to ongoing learning and training yearly. Beth teaches the Fire sequence, Bikram, and Breathe. Next year, Vinyasa training is on the grid. Beth is also pursuing her training to teach yoga to Parkinsons Disease patients. This is a deeply personal agenda as Beth's father bravely lived with Parkinsons for 6 years.
Above anything else, the ability to guide students in their own practice and build community with one another as we gather in the yoga room; is what inspires Beth. Careers, stress, political or religious ideologies, physical or emotional barriers, all can melt away as we practice the simple gesture of genuine acceptance of the present moment as perfect whatever it brings. The ability to experience this, and carry it into the world is a new level of powerful, and life changing.
Beth instructs the following:
1 Hour Beginners Series, 26 postures with 2 breathing exercises designed for all levels, from beginner to advanced, to work the entire body from bones to skin.Formally known as Bikram Yoga.

The room is heated to 105 with 40% humidity allowing the body to stretch safely and detoxify fully. Students are encouraged to rest when needed, listen to the body, never force. You will be amazed at what is possible!