Linda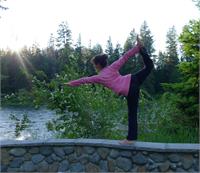 Linda, Teacher
Calling:
All hearts connected and whole.
Linda believes in the transformational power of yoga to connect to wholeness, health and inner wisdom. She teaches yoga in a deep, inspiring and playful way that is accessible to all ages, backgrounds and abilities. Linda began her own practice in 1998 in classes taught by Kevin Cooke at Yoga College of India (now Sealevel Yoga) and completed her 200 hour teaching training program with Spira Power Yoga led by Dora Gyarmati and Carina Terra in 2016.
Linda grew up as an aspiring ballerina at Mercerart Studio and Pacific Northwest Ballet School and participated in dance exchange programs to Spain, Morocco, Poland and Russia. Dance informs her yoga instruction especially with alignment, breath and anatomy. In addition to dancing overseas, Linda has lived in England and Japan, and traveled solo extensively through Asia, Europe and Australia as a young adult. These international experiences shaped Linda's openness to diversity, her willingness to take risks and an ongoing curiosity (…and a persistent travel bug). She loves all of the arts including watercolor painting and writing amateur heartfelt poetry. Linda also studies meditation through the retreats and teachings of Adyashanti and Mukti.
To Linda, yoga is both a physical workout and a spiritual journey-- uniting the mind, body and spirit—fostering peace within oneself and within our world. She is excited to join the phenomenal staff at Be Yoga Burien and to learn from Nina, the teachers and the wonderful community at Be Yoga Burien.
Linda instructs the following:
What is Vinyasa Yoga?

Invigorate your body with these amazing sequences designed specifically to allow breath and movement to come together as one, while aligning, detoxifying and strengthening your body. These intentional flows, combined with the heat, constitute one of the most powerful forms of physical and mental fitness.

Vinyasa yoga is designed to promote lower and upper body strength, balance and flexibility all while coordinating the body, breath, movement, and spirit. It will strengthen your cardiovascular system, sculpt and tone every muscle in your body, and build your endurance Come prepared to work at your level that day, but know you will get a strong practice. Room Heated 95-100 degrees.