Andre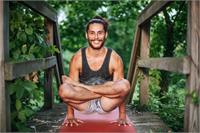 San Diego Native, Andre, initially was drawn to yogas physicality. Coming from a background of playing competitive sports from a young age, he was ready and accepted the physical challenges yoga had presented him. Soon after pursuing a regular yoga practice, he began to understand the struggle to balance competitive drive with respect for the body's limits. Before long, he found peace, clarity, and stillness in his practice and is intrigued by the mind-body connection yoga has to offer. He believes yoga has a way of giving you what you want, but at the same time also what you need. His style welcomes beginner and intermediate practitioners, offering challenges to those seeking to advance their practice. During class he focuses on proper alignment and mindfully syncing breathe with movement through creative flow and transition. His intention is to express his passion and gratitude for yoga and inspire the same in his students.
Andre instructs the following:
What is Vinyasa Yoga?

Invigorate your body with these amazing sequences designed specifically to allow breath and movement to come together as one, while aligning, detoxifying and strengthening your body. These intentional flows, combined with the heat, constitute one of the most powerful forms of physical and mental fitness.

Vinyasa yoga is designed to promote lower and upper body strength, balance and flexibility all while coordinating the body, breath, movement, and spirit. It will strengthen your cardiovascular system, sculpt and tone every muscle in your body, and build your endurance Come prepared to work at your level that day, but know you will get a strong practice. Room Heated 95-100 degrees.