Sarah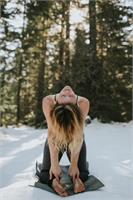 Sarah, teacher: The Classic 26, Yin
Calling: All beings are living in abundance
Sarah's hot yoga journey began in New Jersey in 2006. It started as a great "recovery day" workout as she prepped for figure competitions, but grew into a full-fledge love for yoga and everything it could do for both the body and the mind. In 2010 she made a move across the country to Seattle with her two pugs to be with her now husband, Ryan. The first thing she did when she arrived was seek out a home in the yoga community. After 10 years of practicing, she finally took the plunge and enrolled in the classic 26, 200 hour, teacher training in the fall of 2017 at Be Yoga Burien. Before the first day of teacher training, she already knew that she would enroll in both the vinyasa and yin & yoga nidra teacher training in the Winter/Spring of 2018, totaling over 600 hours of training. Sarah has been studio teaching since January of 2018 and continues to teach in all modalities that she has trained in through the BYB teaching training programs. Her next endeavor will include a training with Yoga Behind Bars and mentoring new members of the upcoming classic 26 training, both in the fall of 2018. Sarah is beyond thrilled to bring her passion for the yoga to her home community and home studio at BYB.
Sarah instructs the following:
Yin is a slow and passive practice, working into the connective tissues, joints, and fascia of the body. Excellent to reduce risk of injury and recover from physical activities, sports, and hot yoga, more quickly. Postures are held for several mins at a time and the class is relaxing in nature. The room not heated.