Danielle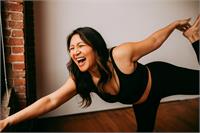 Danielle, teacher
Calling: all people are loved and uplifted
Danielle began practicing yoga in 2008. Her mom basically forced her into going to her first class because her mom told her she needed to work on her "emotional control" and "patience". The first class was challenging, both mentally and physically. What initially kept bringing Danielle back into the
hot room was the great workout. As the years went by, Danielle realized that not only did yoga help physically but mentally as well. Yoga began to be Danielle's therapy and de-stressor. She found herself being less stressed, more positive, less on edge, more patient, less anxious, and more content with the unknown (which is hard when you are super type A!). The list of positives could go on and on. Side note:
mom's are always right! Shout out to all the mamas out there!
In 2017, Danielle decided to deepen her practice and love for yoga by completing 200 hours of Classic 26
Yoga Teacher Training with Nina and Audrey through Be Yoga Burien. Through her practice and YTT, she came to another life-changing realization that the most important part of practicing yoga isn't what you do in the yoga room, it's applying everything you practiced and acknowledged in the room and on your mat, off the mat and
in the real world. It's the commitment to yourself to continue to try, learn, adapt, accept, and move on. She loves being a part of the BYB community as a student and is so thankful and appreciative to be giving the gift of yoga to other students as well!
Danielle instructs the following:
1 Hour Beginners Series, 26 postures with 2 breathing exercises designed for all levels, from beginner to advanced, to work the entire body from bones to skin.Formally known as Bikram Yoga.

The room is heated to 105 with 40% humidity allowing the body to stretch safely and detoxify fully. Students are encouraged to rest when needed, listen to the body, never force. You will be amazed at what is possible!