Ashley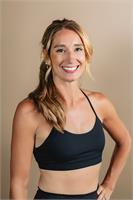 Ashley, yoga and barre teacher.
Calling: all people living lives of love and authenticity.
Ashley started her regular yoga practice after having her 3rd baby. Growing up as a dancer it was a chance to lean in to some balance and flexibility that may have still been lingering around. She stumbled upon BYB and immediately fell in love with the Bikram yoga practice for it's challenge physically and mentally. Sooner than later she found herself coming back for more as often as she could. After working in the corporate world for 20 years, she started to find her balance and her need for self care through yoga. Ashley continued to notice that there was something special at BYB, something different, a loving, caring community, not just yoga. Once those worlds started to collide more and more, she started to question her priorities, and signed up for the Classic 26 YTT at BYB in Fall of 2017. Come to find out it was the best decision she ever made. The training transformed her, by defining her true calling in life, and eventually gave her the courage to put herself, and her family first. She left her job in the fashion industry of 20 years in February 2018, while in BYB's Vinyasa YTT. In May Ashley added Barre training to the mix. A total of 400+ hours of teacher trainings in about 9 months. Ashley still continues to work in the fashion industry, but has been dedicated to continue to be a student and a teacher of yoga. Ashley loves and is invested in this community. She raises 3 children, a dog, and a lizard with her husband Josh in Des Moines.
Ashley instructs the following:
What is Vinyasa Yoga?

Invigorate your body with these amazing sequences designed specifically to allow breath and movement to come together as one, while aligning, detoxifying and strengthening your body. These intentional flows, combined with the heat, constitute one of the most powerful forms of physical and mental fitness.

Vinyasa yoga is designed to promote lower and upper body strength, balance and flexibility all while coordinating the body, breath, movement, and spirit. It will strengthen your cardiovascular system, sculpt and tone every muscle in your body, and build your endurance Come prepared to work at your level that day, but know you will get a strong practice. Room Heated 95-100 degrees.




1 Hour Beginners Series, 26 postures with 2 breathing exercises designed for all levels, from beginner to advanced, to work the entire body from bones to skin.Formally known as Bikram Yoga.

The room is heated to 105 with 40% humidity allowing the body to stretch safely and detoxify fully. Students are encouraged to rest when needed, listen to the body, never force. You will be amazed at what is possible!




Our Barre class is a 60 minute full body workout that combines pilates, yoga, strength conditioning and ballet-inspired moves to give you beautiful, sculpted, lean muscles. A truly unique yet challenging workout, Barre utilizes the ballet barre to perform low impact isometric movements that lifts your glutes, tones your thighs, abs, and arms, and burns fat in a short amount of time. This regimented routine will evenly sculpt and quickly transform the entire body, resulting in a long and lean muscle physique. Room is heated to about 90 degrees. This one-hour class is designed to strengthen your core, lengthen your muscles, center your mind and produce visible results. Each class is designed to build impressive total-body toning and flexibility while maintaining the utmost safety and accessibility for all students.

The room is slightly heated (around 90 degrees) and beginner friendly. No dance background required. Bring what you would for a yoga class, your mat/towel, water, and your light heart :)

*Please note space is limited for this class and you must reserve your spot. No shows will be charged $18 or the equivalent of a class for class card holders.