Shayla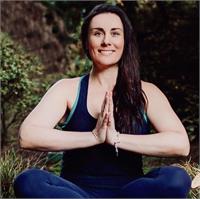 Shayla, teacher
Calling: All people feel worthy, complete, and are living in their light
Shayla is a fitness and weightloss coach who fell head over heels in love with yoga while practicing at BYB. She began her practice to rehabilitate a hurt ankle (from over exercising) and discovered a deep appreciation for vinyasa. Combining the physical and spiritual practice changed the way she started to view her body, exercise, and emotional well being. The biggest gift was the stress reduction that yoga offers, which was LIFE CHANGING. She completed the Vinyasa teacher training at BYB in March with the intention of deepening her own practice, and eventually felt called to step into a teaching role. She loves to create an all inclusive atmosphere where all people feel welcomed, challenged, and successful during her classes. The aim is to empower each person to have fun and explore their own personal physical possibilities. She recognizes that the practice of yoga happens on and off of the mat. Her intention is to build community, inspire others to believe in themselves, and share the yoga love.
Shayla instructs the following:
This is a fun class that combines yoga, and weights, in addition to planking, squats, and other exercises to build strength in the core, legs, arms, and back muscles of the body. We work the entire body from head to toe.

Each class will follow the same basic format of using Vinyasa flow (yoga) to warm up, introducing weights throughout our flow. This class is designed to create long, lean muscle mass, burn fat and increase fitness levels. Get ready to build strength and have fun doing it.

*Though beginners are always welcome, having taken a few vinyasa classes prior is recommended. Students are always encouraged to rest when needed and move at their own pace.




What is Vinyasa Yoga?

Invigorate your body with these amazing sequences designed specifically to allow breath and movement to come together as one, while aligning, detoxifying and strengthening your body. These intentional flows, combined with the heat, constitute one of the most powerful forms of physical and mental fitness.

Vinyasa yoga is designed to promote lower and upper body strength, balance and flexibility all while coordinating the body, breath, movement, and spirit. It will strengthen your cardiovascular system, sculpt and tone every muscle in your body, and build your endurance Come prepared to work at your level that day, but know you will get a strong practice. Room Heated 95-100 degrees.