Brittney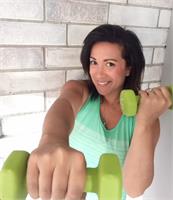 Brittney Mark grew up an athlete and has always had a passion for working out. Upon graduating from Washington State University (GO COUGS), she began her professional career in broadcast radio, a career that spanned nearly 10 years. After becoming a first time mom to her son Griffin (2), she traded in a microphone and headphones for diapers and playdates. It was during this time that she made exercising a full time priority to set a good example for him.
Barre is a great full body workout that's the perfect fusion of all things she loves, music, strength, yoga, and pilates. She's been empowered by many fitness instructors as a client, and hopes as an instructor she can inspire others in the community. Brittney completed her instructor certification through Barre Bohemian Studios in West Seattle.
Her goal each class is to bring a rockin' playlist and fresh barre sequences that challenge clients to feel the burn, embrace the shake, and keep coming back for more.
Brittney is currently not instructing any classes.